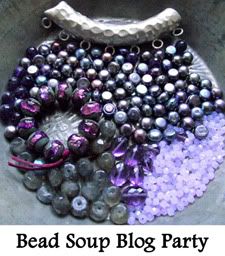 The exchange beads are mailed!
So excited for my beads from
Maria Horvath
to arrive ~ She is a beader extraordinaire!
This is my first Bead Soup Party and anyone who knows me, knows I LOVE a party!
This is quite the get together with over 350 guests ~ Wow...Lori you are amazing for hosting this event!
Here's a secret view of my Soup recipe components & beads ..
It has been scrambled, so it's a surprise to Maria when she receives them!
Mysterious huh! Stay tuned for the next chapter of Bead Soup ~